Lange Singapore Business Trip successfully concluded
2017/5/26 11:37:23(Beijing Time) Lange Steel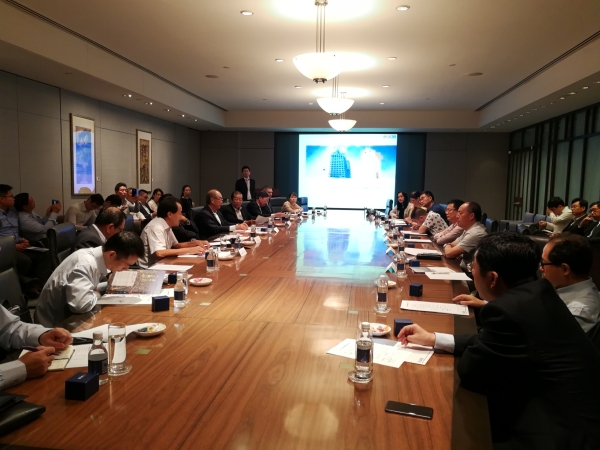 To build The Belt and Road "iron and steel industry business cooperation platform, Lange steel network organized a series of international business activities, Singapore business trip held on May 17th – 20th. The Singapore business trip aims to explore opportunities for business cooperation and investment opportunities in Southeast Asia, although the time is short and the harvest is considerable.
During the delegation participated in the Singapore Hardware Machinery Association organized the "The Belt and Road" steel machinery cooperation conference, and Singapore Hardware Association, Malaysia chamber of Commerce, Kaohsiung international iron and steel hardware business association on behalf of the exchange, have a further understanding of the Southeast Asian steel market situation.
The delegation was also invited to participate in the 82nd anniversary celebration of the establishment of the Hardware Machinery Association of Singapore, and had the opportunity to communicate with more than 600 of the participating enterprises.
Studying the problem of activities for the Southeast Asian market investment environment, investment direction, investment and other special invited the world famous banks were responsible for the two thematic consultation, detailed interpretation of economic environment in Southeast Asia, there may be a business opportunity, may take the investment mode, the bank is supporting and investors can provide value-added services. Through in-depth exchanges, the visiting group members have a deep understanding of the wealth management of enterprises and individuals, and have established consulting relations with professional consulting organizations.
A brief exchange of learning time is only set up inter enterprise contact, follow-up Lange will further organization exchanging and visiting business activities, and gradually establish a communication mechanism of Lange member enterprises and foreign enterprises.
More activities will be held, welcome to participate.
To build The Belt and Road \"iron and steel industry business cooperation platform, Lange steel network organized a series of international busin.....

TEKNO is a biannual trade show covering the industries of TUBE, WIRE AND CABLE, WELDING AND CUTTING and METAL and is the best professional trade show .....

Lange Belt and Road Initiative Business Trip to Russia will hold on 6-10th June, 2017. At present, countries in Asia and Europe are at a critical s.....